I never watch TV during prime time. Or at least Live TV during prime time.  I stream a lot of TV or watch recordings or on-demand TV. I'm sure that it is more the rule than the exception in 2017.  (Speaking of 2017, today's date – all prime numbers – is the inspiration for this post!)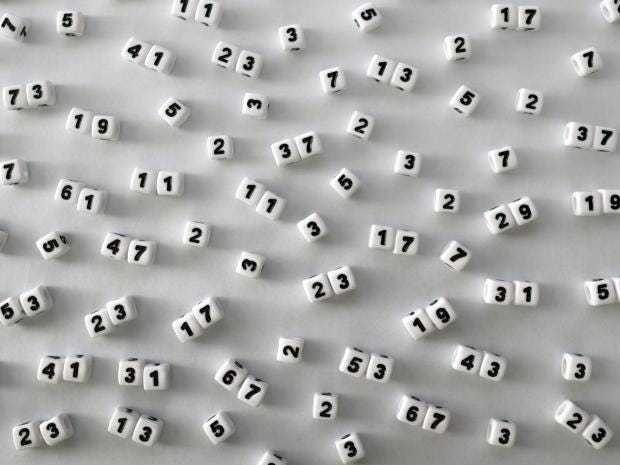 One prime time show I am keeping up with – either on Hulu or my DVR – is This is Us.  I'm sure it needs no introduction, as it is much-watched.  I like the stories told in the present and in the past and think that it is pretty clever and well done.
Other Prime-Timey shows I have been watching are:
Speechless – about a family with a teenager with cerebral palsy who is nonverbal and uses a communication board. Minnie Driver plays the mother who advocates heartily for her son and drives her minivan like a maniac. It is pretty funny and cute.
Great News – about a mother who gets an internship at the the cable news program in New Jersey where her daughter works. I think it's pretty hilarious and love the actors in it.
Younger  – about a divorced woman who is returning to the workforce and finding it unfriendly for her 40-year-old self, so she poses as a 25 year old and gets hired in the publishing business. Starring Sutton Foster (of Broadway fame) and on TVLand (or tvland.com, where I've been watching). I'm savoring the last few episodes of this season…
The Mindy Project – the final episode of her series, which moved to Hulu, airs tonight at midnight. This show is the reason I subscribed to Hulu, so I could keep watching it after it left TV. I won't stay up to watch tonight but will catch it tomorrow!
As you can see, I lean towards the light and comedic. If Chris and I are watching TV together we watch a LOT of International House Hunters and Tiny House Hunters from our DVR – we watch a lot because they make a lot!  It's fun to dream about living abroad and living even tinier than we are. We also love to laugh at the people who want an America Kitchen in their Vietnamese apartment or the walk-in closet and full-size appliances in their tiny house.
In the days leading up to Thanksgiving, I am looking for holiday themed movies and television shows on all of the streaming options. Tonight, it's Home for the Holidays, the 1995 Holly Hunter movie about coming home for Thanksgiving.  I remember the year we discovered all the Thanksgiving episodes from Cheers – what a hoot.  Maybe this year I'll look for all the Friends episodes! I do love a theme…
Do you have favorite Thanksgiving movies or television episodes?
And now, a list from Wikipedia of films set around Thanksgiving!  I think there are some to add to my queue!
Animated
[
edit
]
B.C.: The First Thanksgiving, a 1973 TV film
Garfield's Thanksgiving, a 1989 TV film
Feedin' the Kiddie, a 1957 cartoon short featuring Tom and Jerry
A Charlie Brown Thanksgiving, a 1973 TV film
Free Birds, a 2013 film directed by Jimmy Hayward
Holiday for Drumsticks, a 1949 Merrie Melodies cartoon short featuring Daffy Duck
Jerky Turkey, a 1945 cartoon short
The Little Orphan, a 1949 cartoon short featuring Tom and Jerry
Mouse on the Mayflower, a 1968 TV film
Pilgrim Popeye, a 1951 cartoon short featuring Popeye
Pilgrim Porky, a 1940 Looney Tunes cartoon short featuring Porky Pig
Soup's On, a 1948 cartoon short featuring Donald Duck with Huey, Dewey, and Louie
This Is America, Charlie Brown: The Mayflower Voyagers, a 1988 TV film
Tom Turk and Daffy, a 1944 Looney Tunes cartoon short featuring Daffy Duck and Porky Pig
The Voice of the Turkey, a 1950 Noveltoons cartoon short
Seasons of Giving, a 1999 TV film featuring Winnie the Pooh
Alvin and the Chipmunks: Alvin's Thanksgiving Celebration, a 2009 TV film
Addams Family Values, a 1993 film directed by Barry Sonnenfeld
Alice's Restaurant, a 1969 film directed by Arthur Penn
Awkward Thanksgiving, a 2014 film written and directed Henrique Couto
Broadway Danny Rose, a 1984 film written and directed by Woody Allen
For Your Consideration, a 2006 film written and directed by Christopher Guest
The Gold Rush, a 1924 film written by, directed by, and starring Charlie Chaplin
Grumpy Old Men, a 1993 film directed by Donald Petrie
The House of Yes, a 1997 film directed by Mark Waters
Jack and Jill, a 2011 film directed by Dennis Dugan
National Lampoon's Thanksgiving Family Reunion, a 2003 television film directed by Neal Israel
Not Cool, a 2014 film directed by Shane Dawson
The Object of My Affection, a 1998 film directed by Nicholas Hytner
The Other Sister, a 1999 film directed by Garry Marshall
Paul Blart Mall Cop, a 2009 film directed by Steve Carr
Planes, Trains and Automobiles, a 1987 film written and directed by John Hughes
Somebody Killed Her Husband, a 1978 comedy/mystery film directed by Lamont Johnson
Son in Law, a 1993 film directed by Steve Rash
The Star-Crossed Romance of Josephine Cosnowski, a 1985 television film written by Jean Shepherd and directed by Fred Barzyk
Tadpole, a 2002 American film directed by Gary Winick
Thanksgiving Day, a 1990 television film directed by Gino Tanasescu
Tower Heist, a 2011 film directed by Brett Ratner
The Big Chill, a 1983 film directed by Lawrence Kasdan
Dutch, a 1991 film written by John Hughes and directed by Peter Faiman
The Facts of Life Reunion, a 2001 television film based on the 1979-88 sitcom
Funny People, a 2009 film cowritten and directed by Judd Apatow
Hannah and Her Sisters, a 1986 film written and directed by Woody Allen
Home for the Holidays, a 1995 film directed by Jodie Foster
Nobody's Fool, a 1994 film directed by Robert Benton
Palo Alto, a 2007 film directed by Brad Leong
Pieces of April, a 2003 film written and directed by Peter Hedges
She's Gotta Have It, a 1986 film written and directed by Spike Lee
Smart People, a 2008 film written by Mark Poirier and directed by Noam Murro
Sweet Hearts Dance, a 1988 film directed by Robert Greenwald
Thanksgiving, a 2014 film directed by Adam Newport-Berra
What's Cooking?, a 2000 film directed by Gurinder Chadha
Alien Abduction: Incident in Lake County (1998), a family is terrorized by extraterrestrial creatures while celebrating Thanksgiving
Blood Rage (1983), a psychopath goes on a homicidal rampage after the twin brother he framed for murder years earlier escapes on Thanksgiving
Boogeyman (2005), around Thanksgiving, a man is stalked by the entity that haunted his childhood
Home Movie (2008), home video footage documents a family's descent into violence and madness; includes scenes of various holidays including Thanksgiving
Home Sweet Home (1981), an escaped mental patient embarks on a killing spree over Thanksgiving weekend
Intensity (1997), a young woman encounters a serial killer while visiting a friend's family for Thanksgiving, then follows him to try and rescue a teenager he's abducted
Kristy (2014), a college girl who is alone on campus over the Thanksgiving break is targeted by a group of outcasts
Thanksgiving (2006; short film), two couples are taken captive and tortured by a sadist during Thanksgiving dinner
Thanksgiving (2007; short film), an insane, turkey-obsessed pilgrim commits a series of random murders on Thanksgiving; directed by Eli Roth
ThanksKilling (2009), a group of students are hunted by a demonic turkey during Thanksgiving break
ThanksKilling 3, a 2012 film sequel to ThanksKilling
Thanxgiving, a 2006 film, directed by Bobby Ray Akers, Jr. about Spectre, a college film student, who takes his film crew to a deserted campground to finish his thesis film over Thanksgiving break
Thriller
[
edit
]